Visit us from 18. to 22.10.2023.
You will find us at the new location in hall 4.0, E 21 – we look forward to seeing you.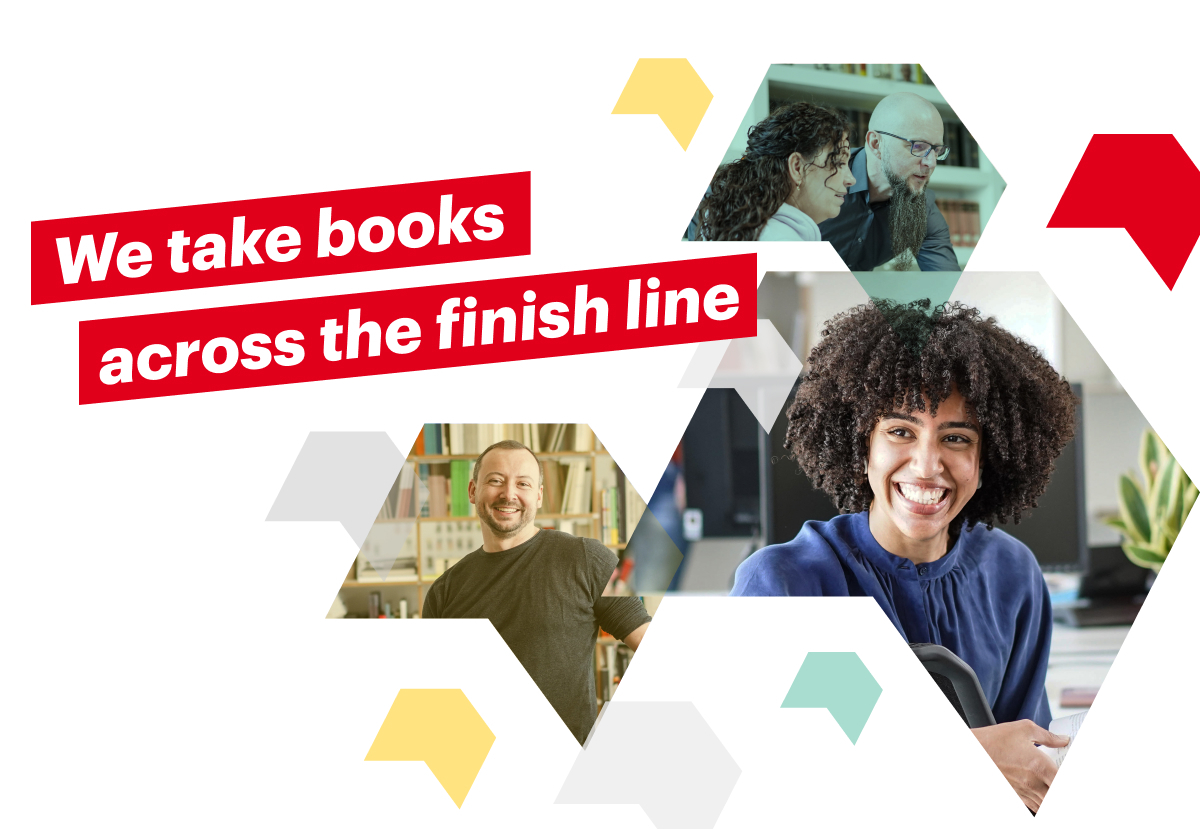 We bring books to their destination – that has been true for more than 75 years. The Frankfurter Buchmesse is taking place for the 75th time this year. We congratulate the team and all those involved on this masterpiece and celebrate #MitVollerBegeisterung with them, because we have been involved as an exhibitor from the very beginning!
For this special occasion, we have come up with an extra colourful programme: After the successful premiere at #fbm22, we will continue our specialist format MVB-Austausch (MVB Exchange) around current industry topics, call for a photo challenge in the VW bus at the Agora with VLB-TIX and shortly give our colleagues a stage for their personal trade fair stories. There are also tasty prizes to be won and great giveaways on site. And at the grand finale of our CONTENTshift Accelerator, we will decide who will be "Content Start-up of the Year". Be excited! You can find all the information about our trade fair appearance at #fbm23 on this page.
With a trade fair team from all five MVB locations – in Germany, Brazil, Mexico, the United Kingdom and the United States – we will be there for you and look forward to intensive days in the Frankfurt trade fair halls with good conversations, interesting encounters and many new impressions. And of course to this year's guest of honour Slovenia.

See you and Nasvidenje in Frankfurt!
Your MVB team
#MitVollerBegeisterung for novelties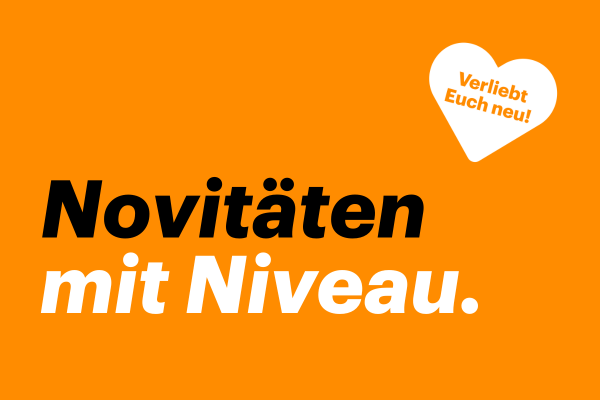 As part of its "Verliebt Euch neu!" campaign, the team of our novelty platform VLB-TIX is launching two photo challenges at #fbm23 for all those who #GemeinsamDigitalBuchhandeln. And not just anywhere, but in an orange VW van! It will stop prominently at the Agora next to the Pavilion (Ago, C 39) and also invite you to take snapshots at the members' party of the German Publishers and Booksellers Association, which we are supporting as a partner.
The challenge is not too difficult: just drop by, take a photo and share it with us or the online world. Book people from publishing houses and bookshops can win individual VLB-TIX training sessions on Wednesday and Thursday. Book fans can look forward to book packages and book cheques from Friday to Sunday.
All information on the campaign at: www.vlbtix.de/perfectmatch
#MitVollerBegeisterung for screen advertising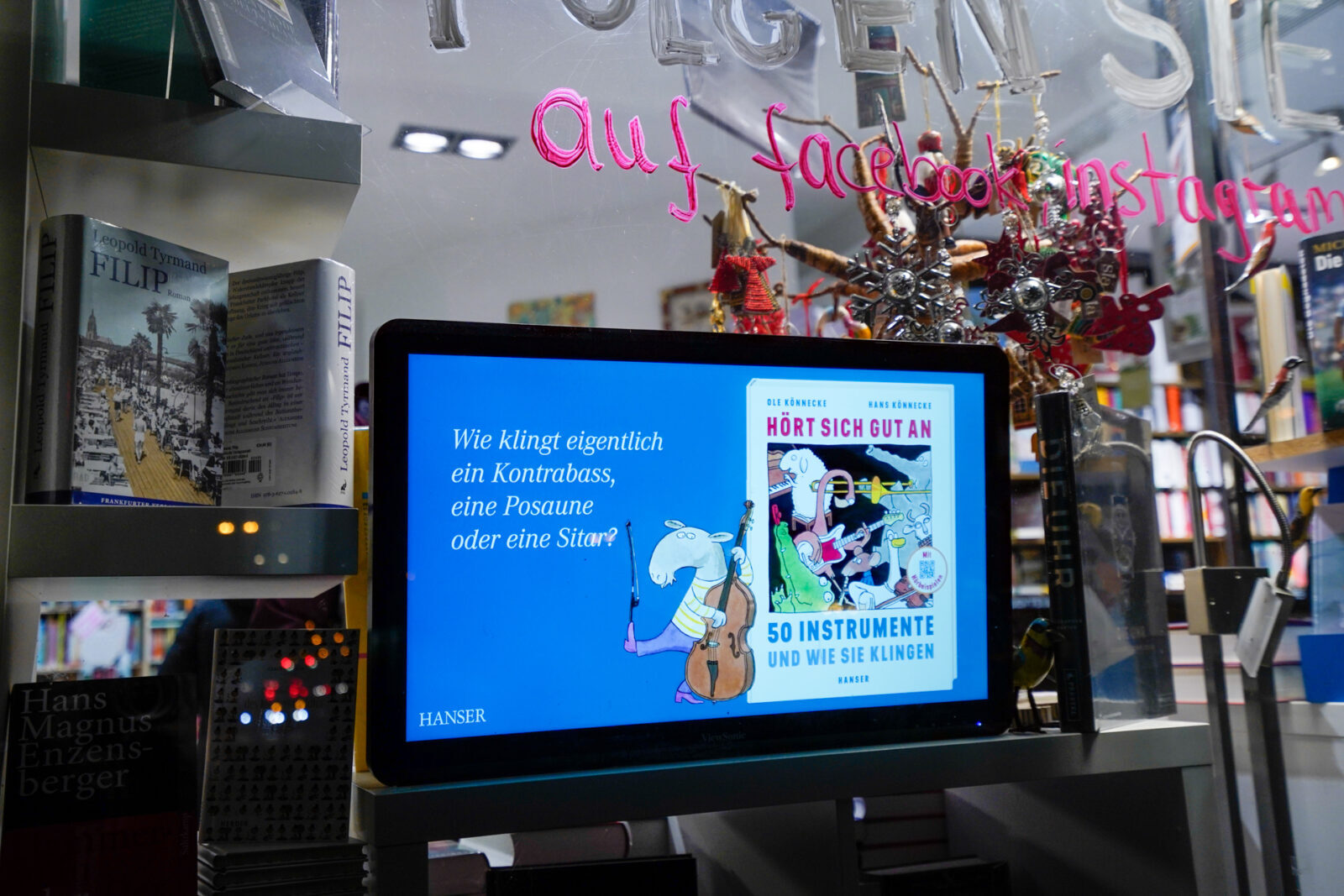 Moving images move people: Because they attract attention. This also works in the bookshop. Our new Bewegte Schaufenster offer publishers and bookshops an ideal way to attract more attention at the point of sale (PoS). Animated and rolling content is perceived as more valuable and offers more possibilities for staging. And this is now also possible in bookshops. Real eye-catchers, not only for regular customers, but also for potential book buyers.
Our media team will be happy to explain how the subscription model works and what the conditions are in a personal conversation on site at our trade fair stand, where we will be presenting a sample screen. Just come by and let us move it for you.
#MitVollerBegeisterung for selfpublishing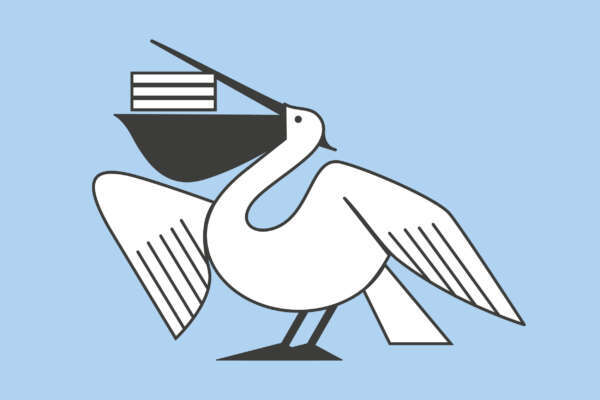 No matter for your assortment design, your programme planning or for your own reading supplies: with our Livro joint exhibition (Hall 3.0, C 97) and the Livro exhibition catalogue, you will find orientation in the extensive range of books from small and independent publishers.
Let yourself be inspired!
#MitVollerBegeisterung for meta data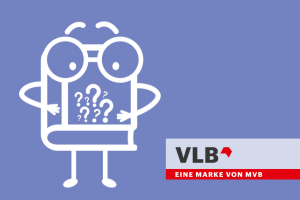 Browsing is nice. But so is finding what you're looking for right away. But even the greatest book experts can't have all the titles in their heads, or know every reading motive. How do your customers still think you know everything? With a subscription to Verzeichnis Lieferbarer Bücher (VLB). This provides you with daily updated, detailed title information, exact prices and assignment to the Reading Rationales.
Subscribe to VLB now with a 30 percent discount in the first subscription year and take advantage of all the benefits our database has to offer. During a free webinar of your choice, you will also learn how to best integrate the wealth of data into your day-to-day bookselling business: www.vlb.de/abo
#MitVollerBegeisterung for Slovenia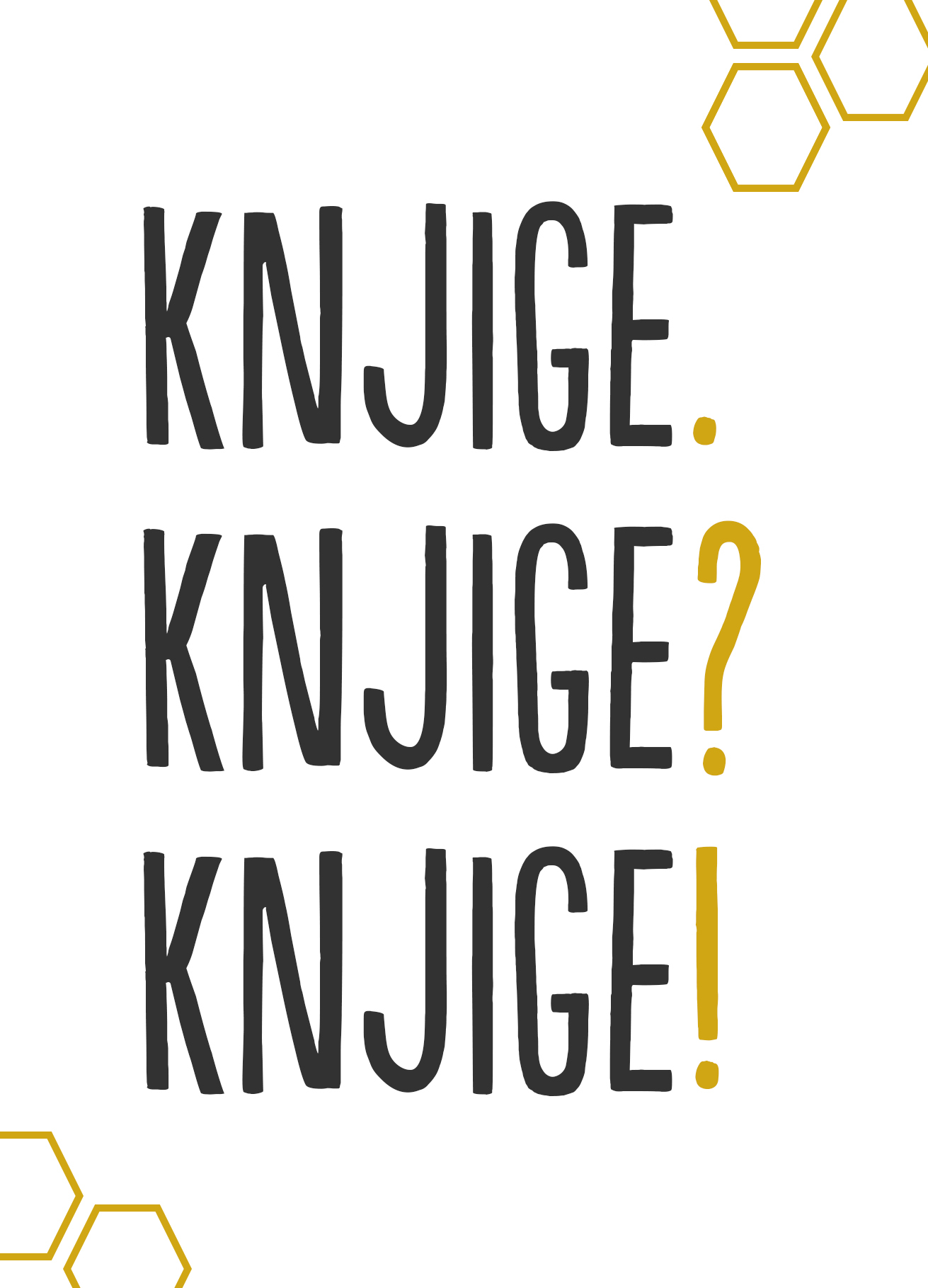 KNJIGE. KNJIGE? KNJIGE! – BOOKS. BOOKS? BOOKS!
What could be better than celebrating the world of books together?! For example, with a voyage of discovery through Slovenian literature, which is presenting itself as Guest of Honour at the Frankfurter Buchmesse this year under the motto "Waben der Worte". We are very much looking forward to the programme and the many new publications and hope that all visitors will have fun discovering them!
By the way, an overview of the current titles is also available as a separate preview in our novelty platform VLB-TIX: www.vlbtix.de/slowenien
PS: By the way, our great Guest of Honour postcard is available free of charge at our stand - and of course at the information desk on Guest of Honour 2023. It pays to be quick!
Our stories from 75 years of MVB at Frankfurter Buchmesse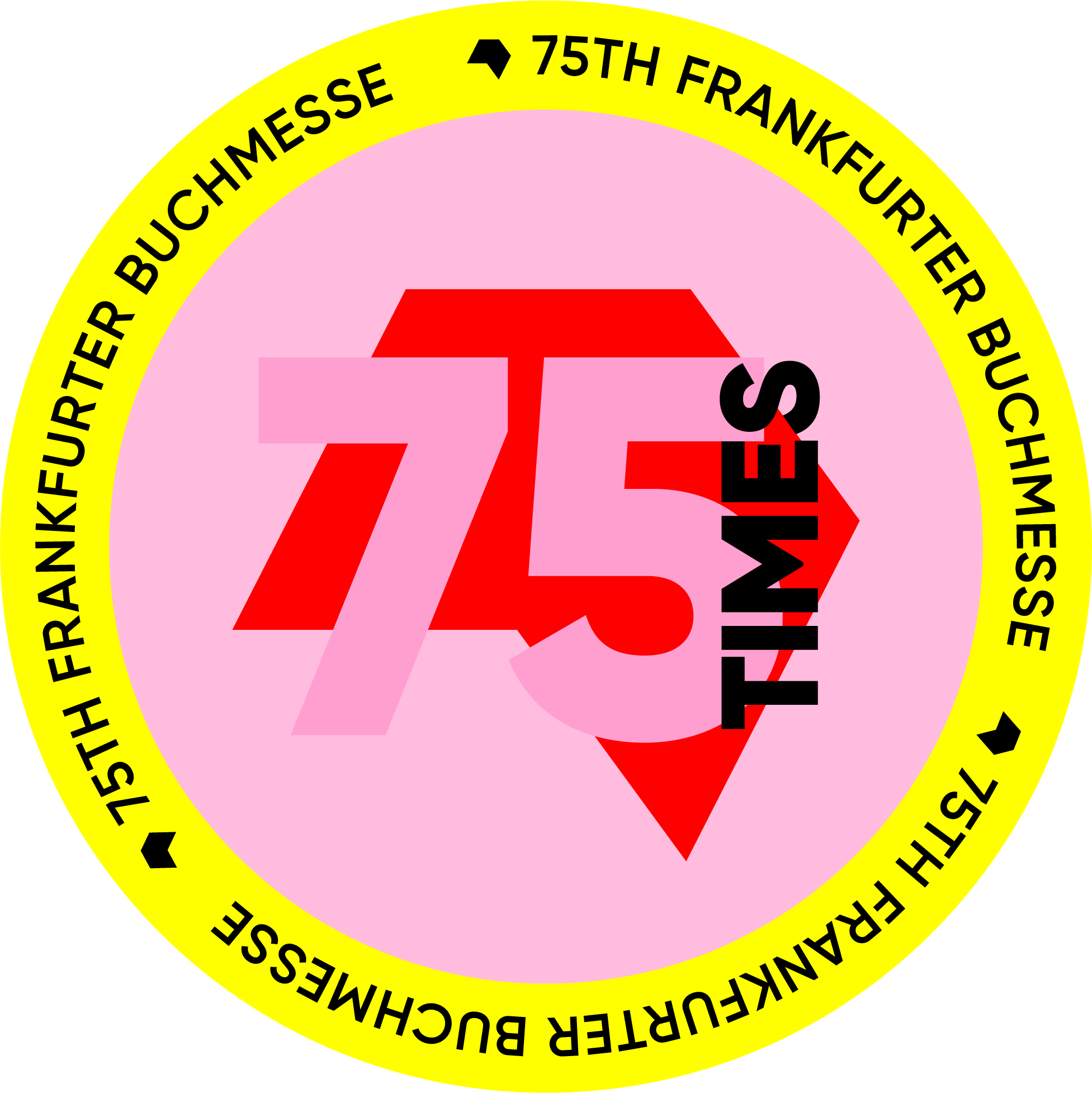 Did you know? There are only 13 companies that have exhibited at Frankfurter Buchmesse since its premiere in 1949. And we are part of this #Team75. At the start in Paulskirche, we were still called the Booksellers Association. Since then, not only has our name changed, but also the offerings we present at the fairground have evolved.
Our booth became bigger and bigger and many years ago we joined forces with our colleagues from the Börsenverein group. This is how our current Buchmesse home, the Börsenverein Center, came into being. Since then, visitors to the fair have found our offerings bundled under its roof.
75 times #fbm stands for endless great stories, experiences, encounters, developments and learnings. We share some of them here:
How our booth has changed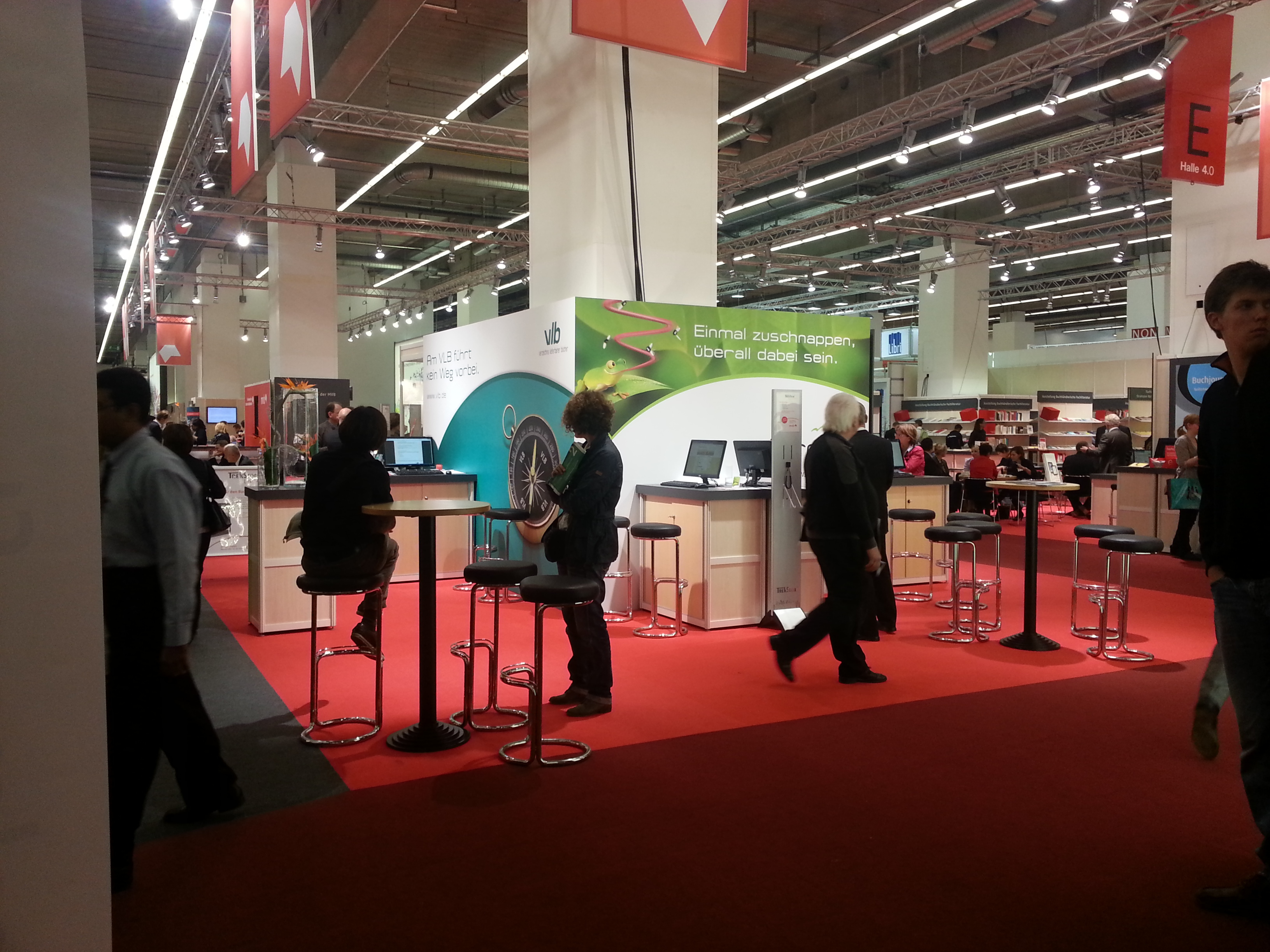 Our former colleague and long-time booth manager Renate can draw on a wealth of experience: "For many years, the stand area had been growing larger with each move – especially with moving our location within Hall 4, when MVB and Börsenverein as well as the regional associations and the booksllers committee moved together. From that point on, the booths had a common design."
The issue of catering has also always been of great importance: "Before 2007, we had our own kitchen at the stand, where everyone made their own sandwiches. The kitchen was stocked by the janitor couple and there was mainly canned sausage and gray bread. In addition, it was very critically eyed, who helped himself there, that could bring a newcomer already times in proof trouble. The booksellers committee still had its own stand at that time – with a booksellers' cafe, where there were lard sandwiches, coffee and Frankfurter sausages and the like."

"From around 2007, we had large illuminated walls at our booth in 4.0 for greater visibility. One wall was set up in the area of the Börsenblatt café and the live editorial office at the time and featured advertising for the Börsenblatt. The motif had been approved by everyone in advance – editorial, ad sales, marketing and sales, corporate communications, the booth builder and me, the booth organizer, had checked it out ... and then the day before the opening, the big illuminated wall was hanging there and a fair temp came by, took a quick look and asked: "Is that really supposed to say expolsive?" Of course it wasn't supposed to – we had all missed it and it was in such an exposed spot on the illuminated wall that it had to be corrected. So the illuminated wall was taken down again and the booth builder promised to deliver a new one by the next morning – start of the fair, 09:00! – to have a new one delivered and hung up. When I arrived at the stand at 08:00 the next morning, I was very relieved to see that the naked neon tubes were covered by a new – faultless – illuminated wall."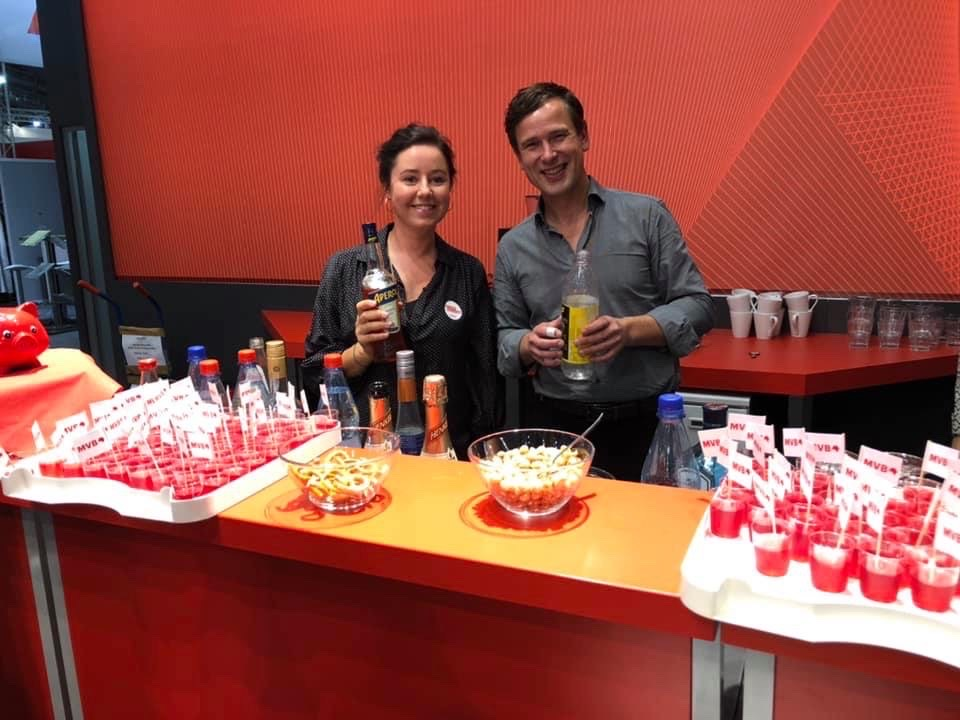 Our marketing colleague Katrin knows a thing or two about the fact that organizing a trade fair stand is not always easy: "Anyone can do classic! Beach bar, lifeguard tower or circus tent – before it goes into the detailed planning with our booth builder, all ideas are put on the table, no matter how curious they may be. However, this frequently leads to wild shaking of heads and many discussions within the team. Can you even call it luck when the booth builder comes around the corner with safety concerns and regulations and steers the ideas in other directions? So in 2019, we unfortunately had to make do with red jelly shots that we handed out to our guests instead of ceremoniously opening the beach bar."
From the challenges of a trade fair day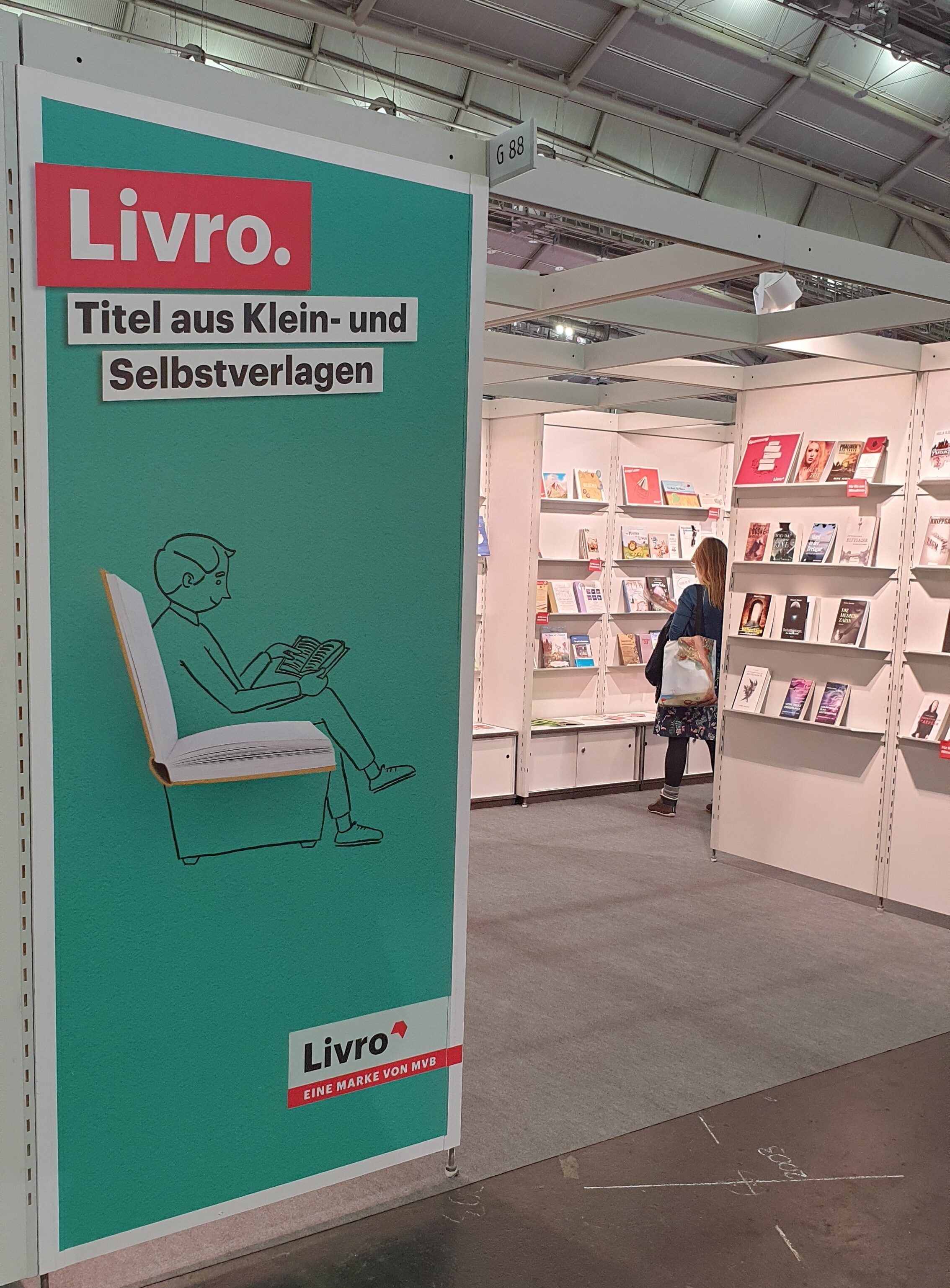 "At the Livro booth, I once had a nice encounter with a very nimble author. She asked for information about Livro, how to register books, how much it costs, and what the benefits are. Then she showed me her book. She asked if this book would fit into the Livro exhibition, because it was very special. When I opened the book, I was astonished for a moment: There were an infinite number of graphically very artistic and sophisticated illustrations of the very finest patterns and manufacturing instructions for lingerie," says our colleague Susanne, who always likes to be surprised by new books at the stand of our joint exhibition.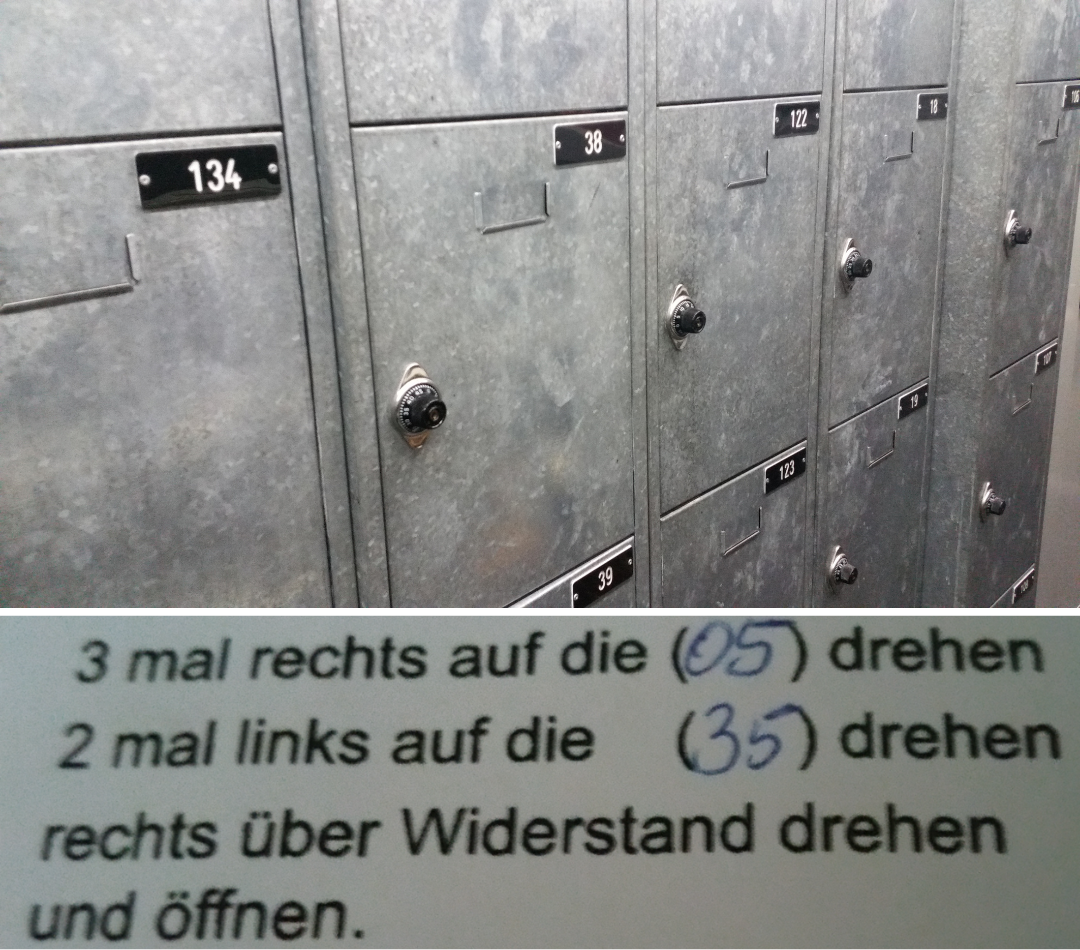 "At the MVB stand, our days at the fair traditionally start with a little coordination task: Whoever manages to open the locker in the first attempt in the morning according to the instructions is fit and ready for a day at the fair with lots of encounters with great book people from all over the world," says our digital expert Monica about the annual Beagle Boy vibes.

Renate can tell you only too well that as a booth manager you are also confronted with curious situations: "We once had a permanent guest at the stand who generously supplied himself with our drinks and snacks – chocolate, jelly bears, cookies, etc. – and received guests at the booth. It turned out that he was neither a member of the Börsenverein nor had any appointments with the association or us and obviously – and now for the second or third day – only wanted to save his own booth fees and the costs in one of the fair cafés. After a first, unsuccessful attempt to compliment him from the stand, I took a somewhat stronger colleague with me on the second occasion. This one must have been sufficiently forceful so that the gentleman quickly left our booth."

"An unattended suitcase that has been on the booth for hours: As the person responsible for the stand, you have only two options here – either unpack the suitcase yourself, or call the police, as the regulations stipulate. For safety's sake, I opted for option number two, since it was a fair with major political themes. A short time later, the police arrived and opened the suitcase under security precautions. The tension was great! But it turned out that it was the suitcase of a colleague who had forgotten it and not for the first time. So always take good care of your own things," Renate sums up.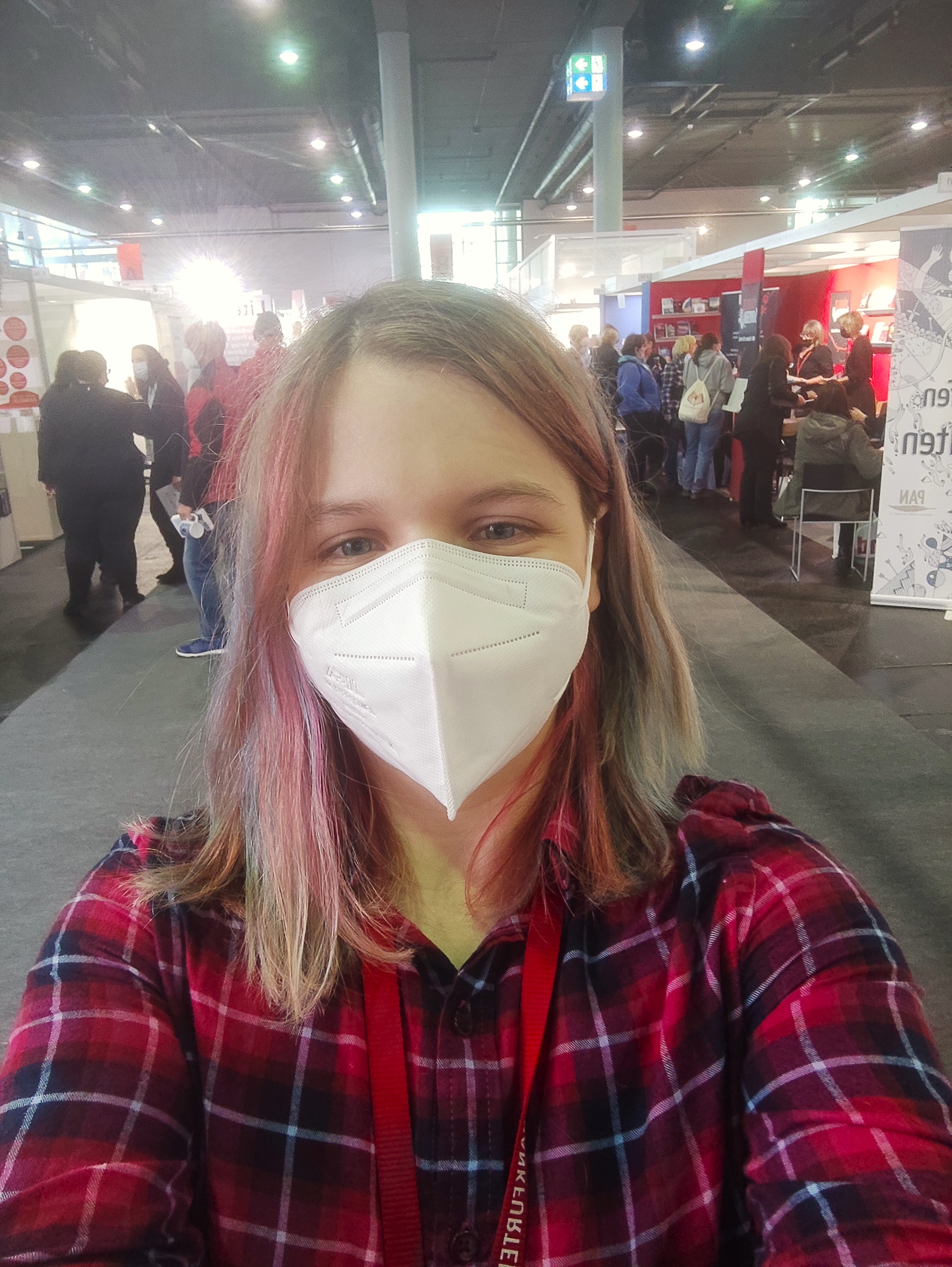 Anna remembers her first Frankfurter Buchmesse all too well: "I was at my first book fair in 2021 – that was the Corona fair. In August, I had started my training at MVB as a digital & print media expert. I was working for the Livro joint exhibition and so the fair was a topic from day one, as I would be helping to look after the booth there. The closer October came, the more excited I got. But the anticipation grew with each passing day. As soon as the week of the fair started, I was everywhere. It was exhausting, but I had a lot of fun doing it and was very excited by all the new impressions – and the actual trade show hadn't even started yet! But then it was time.

What should I wear? How strenuous will standing all day at a trade show be? Are my shoes comfortable enough for that? How do you present a stand and a company properly? Questions upon questions. As soon as I was at the booth with all the familiar books and the set-up I had helped with myself, I calmed down. The first conversations with customers had added to my nervousness, but after that I felt more and more confident and secure. I really enjoyed the days at the fair, including seeing all the other booths, the atmosphere in the halls, and getting to know many book people.

The biggest challenge for me was counting people at the Livro booth. Due to the Corona measures at the time, only a certain number of visitors per square meter were allowed on the booth area. It became especially difficult when there were only two of you and then someone had a question. It required a lot of multitasking, communication and attention, so I was especially exhausted after those shifts. But it was nice that the Livro booth had such a great turnout."
When book people meet book people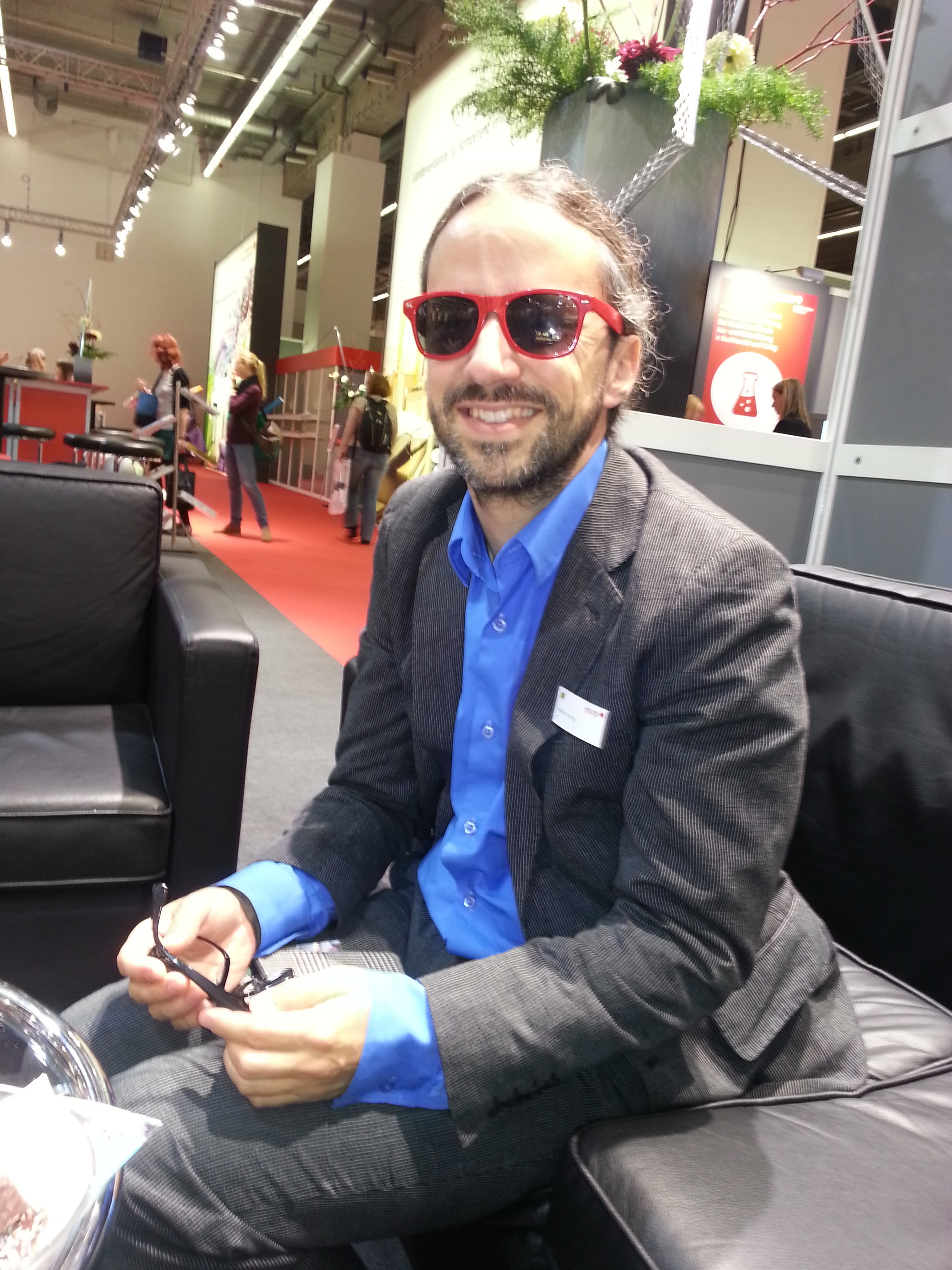 "At the Frankfurter Buchmesse 2008, I was still working for my former employer. Among other things, I had organized an event with a mathematics author, at the end of which mathematical finger food was served :-D 
I had also invited my old friend Ute from Munich, whom I had met in 2001 through a mutual friend in Heidelberg. Both of them were training to be booksellers there at the time. A few months later, I moved to Brighton, England, for Erasmus studies. Meanwhile, Ute moved to Munich to study book science. Out of sight, but not quite out of mind ... Because through our mutual friend we always knew what the other was doing, but our meeting at #FBM08 was to be the first reunion after six years.
Ute's first comment – "You've gone quite gray!" – was not quite an optimal start ;-) But we had way too much to talk about and way too little time in the hustle and bustle of the fair. So the next meeting was scheduled directly after the book fair in Heidelberg. In the meantime, we have been married for nine years, have two little Fertigs at our side who are also already real FBM fans, and live within walking distance of the trade fair grounds, where the second glimpse of a very special book person was more than worth it," our press spokesman Markus remembers fondly.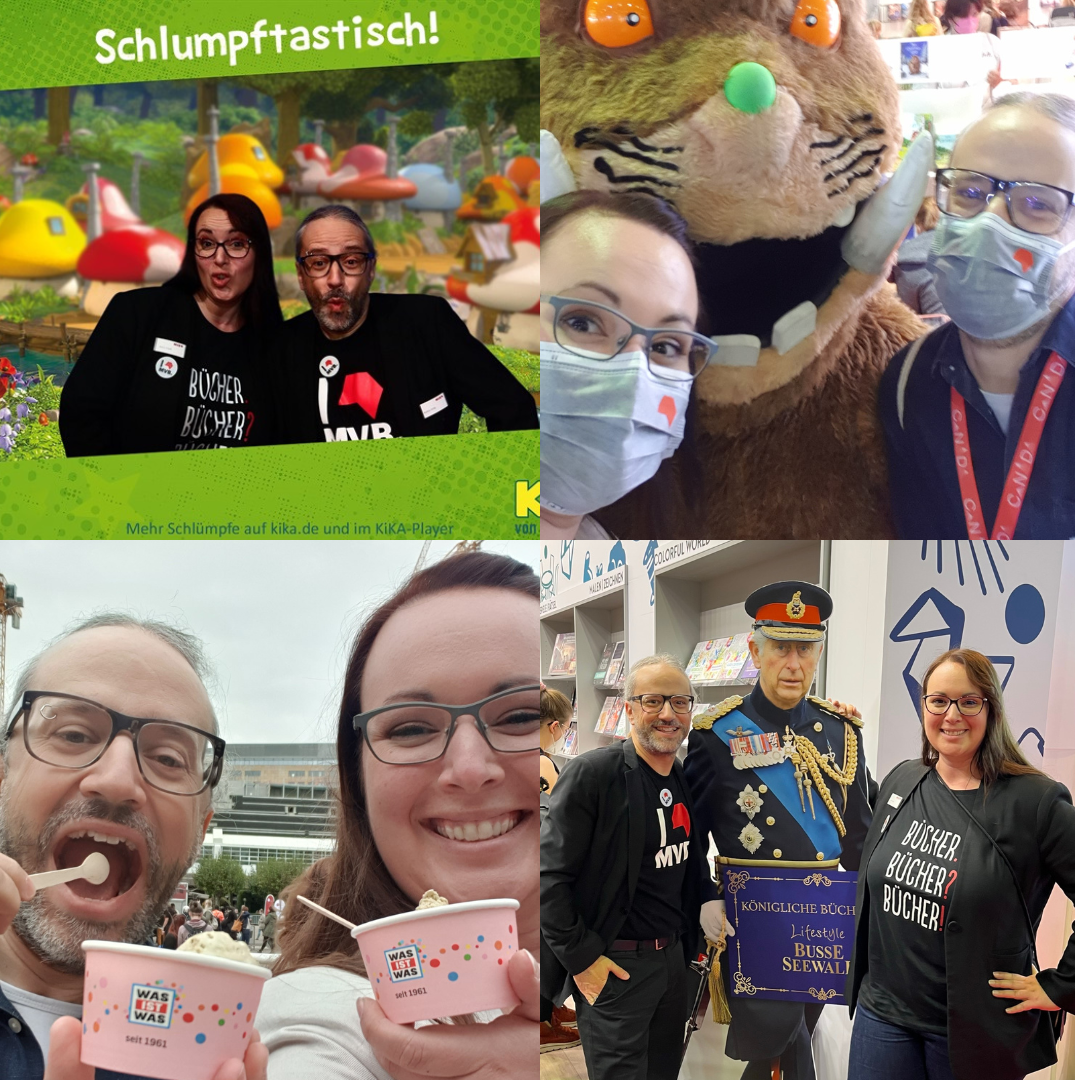 Katrin can also report on special and, above all, funny moments: "Traditions have to be cultivated, even if they are still very young. So Markus and I started our traditional photo tour, which we have been celebrating together since 2021. The aim of our tour is to take every possible photo motif and take as many funny pictures as possible, which we share live on the day with our social media fans. It's a really fun event that's firmly scheduled in our diary again this year."
What must not be missing in the trade fair luggage
According to our trainee Anna, these things should never be missing from the book fair luggage:
Deodorant, because you do something good for yourself and others.
Handkerchiefs, because you never know when you'll need them!
Disinfectant for the hands, also after Corona
Snacks, sweet and salty, to quickly fortify yourself in between a low – or to share!
Give-aways for others, because you never see so many book people as here and should take advantage of this opportunity.
Even if you already have an extra bag in your backpack, I always take an extra-extra bag. You never know what you'll find at the fair after all and even if you don't need it yourself, someone else sure will.
Other highlights from previous years
And the story goes on ... Many more stories from us and others can be found on the anniversary page of Frankfurter Buchmesse.
The whole fair in your hand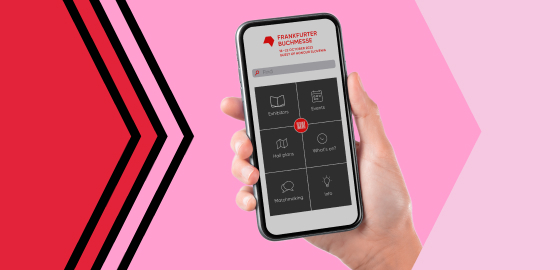 With the free Frankfurt Book Fair app (iOS and Android), you are always up to date:

all events and exhibitors including a list of favourites
personal calendar with reminder function
matchmaking for trade visitors
practical information about the Fair
Further information at: www.buchmesse.de/app