Frankfurt am Main | Mexico City
,
18.01.2023
MVB América Latina: Adriana Ortega New General Director
Experienced industry expert to head business operations of technology and information provider MVB in Mexico City with immediate effect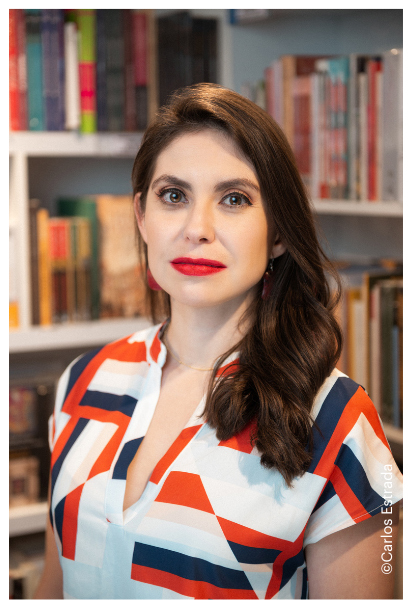 The technology and information provider MVB is expanding its team in Mexico City. Dr. Adriana Ortega, who joined MVB América Latina in 2019, became the new General Director of the office on 15.01.2023. Ortega initially started as Director Marketing & Sales, from 2020 on she acted as Director of Operations and will now lead the Mexico City office and the team. Ortega will continue to be supported on site by Farid López, Country Business Manager, David Cerón, Metadata Analyst, and the newly created position Operations and Marketing Manager by Salvador Martínez Mata as well as the German team from MVB in Frankfurt.
Ortega will be largely responsible for the expansion and further development of the Metabooks database. The central platform offers standardized metadata on more than 60.000 available printed books and e-books for the Mexican market.
Ortega started her career in the publishing world after studying Art and Latin American history, followed by a PhD in history at the Université de Paris III - Sorbonne Nouvelle and a Masters in Publishing at the Universidad Pompeu Fabra, as well as various research stays in Mexico at UNAM and in the US, at the Massachusetts Institute of Technology. She worked on academic publications and as absolved an internship as a literary agent at the Carmen Balcells Literary Agency in Barcelona. She has also taken over responsibilities in project management and political analysis in education and international relations at various diplomatic missions in Mexico and at the OECD (Organization for Economic Cooperation and Development) in Paris.
Ronald Schild, Global CEO at MVB, says of the new role: "Not even four years after launch, Metabooks has become an essential part of the infrastructure in the Mexican book market. Large, medium and small booksellers, publishers and distributors have integrated Metabooks into their systems and are benefiting from a more eased communication regarding metadata thanks to our product. With the consolidation of the team and Adriana Ortega as the new General Director, who has been with us since the beginning and knows the market and the product very well, we are taking the next important step towards growth and are on course for success despite a difficult market environment."
Adriana Ortega adds: "Contributing to change the paradigm of how metadata is shared in the book industry in our market is certainly an exciting challenge and a very much needed task. For three years, I have spent my days among publishers, distributors, and booksellers, from the independent ones to the big groups, and this has brought me a privileged overview of the Mexican book industry, its diversity, depth, and pain points. I am thrilled to work for a company that has always been willing to adapt MVB's German technology to the specific needs of the Mexican market. This has required a huge amount of listening, coordination, and bold action. After the pandemic, the time feels right to lead the team towards the consolidation of our services here in Mexico."
Additional Information
Link
Materials to Download

About MVB
Technology and information provider MVB makes books visible. Major platforms, based on international metadata standards, enable publishers and bookstores to promote their products successfully and efficiently in their home markets and abroad. Editorial and advertising formats as well as face-to-face networking give orientation in different book markets. In close cooperation with customers and market players from all areas of the book industry, the teams located in Frankfurt am Main, London, Mexico City, New York, and São Paulo continuously work on innovative Infrastructure solutions for the book trade of the future.
www.mvb-online.com
Contact